Hello Agents!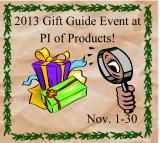 How is everyone this afternoon? We are doing GREAT! We have another product for our 2013 Holiday Gift Guide Event!
PÜR Gum!!
I received a sample package of PÜR Gum! 1 Pack of Pomegranate Mint, 1 Pack of Wintergreen, 1 Pack of Spearmint and 1 Pack of Peppermint! I am really big on mint-flavored gum, so I really enjoyed this.
My two personal favorites were the Spearmint and the Peppermint (yes, I said were - they are all gone already!).
My third favorite flavor would be the wintergreen. Look! This gum is aspartame-free, perfect for those that have diet restrictions, health problems, pregnant, etc.
Now, I have to be honest, nobody in my family was really thrilled with the Pomegranate Mint flavor. Nobody in my family really cared for it, but if you like pomegranate and/or mint, give it a try!
Here is some information about PÜR Gum : "
PÜR GUM

is the #1 choice for a healthier chewing gum.

PÜR GUM

is sweetened with

Xylitol

, a naturally occurring sugar alcohol and a healthy alternative to sugar and artificial sweeteners. Made in Switzerland,

PÜR GUM

offers consumers the highest quality

ingredients

available.

PÜR understands the need for products that speak to certain diet restrictions, and lifestyle choices to promote optimal health across the globe. For that reason,

PÜR GUM

is

vegan

,

gluten-free

,

non-gmo

,

nut-free

,

diabetic friendly

and

dairy free

. When we say PÜR, we really mean it.
"
PÜR Gum would make a great gift for those gum lovers in your life. Not to mention those that can't usually have gum because of health problems, diet restrictions, etc. You can can check out the four flavors at the
PÜR Gum website
. You can also
Like them on Facebook
and
Follow them on Twitter
to stay up-to-date with their latest news!
RESULTS OF INVESTIGATION...
PÜR Gum Would Make A #1 Gift!
CASE CLOSED!!!
I received no monetary compensation for this review/giveaway. I did receive a sample package of PÜR Gum for review purposes only. All text in red is taken from the PÜR Gum website.