Hello Agents!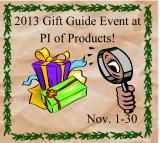 How is everyone doing this evening? We are doing fine, but are pretty busy. I have another Gift Guide product for you!
I received a
Oransi
Fridge Air Purifier for review! As it sounds, this is a air purifier for your fridge!
This isn't just any purifier...
"
Top 10 ionic fridge air purifier features that delight: 1. Save money for starters: there are no replacement filters and nothing to clean. The air purifier uses 2 AA batteries that require replacement approximately every 45-90 days. Built-in micro processor controls the operation of the air purifier so it will cycle on and off to save battery life. 2. Silent: no fans. 3. Intuitive. 4. Effective in the removal of odors and bacteria to keep your refrigerator smelling fresh and your food fresher. 5. Conveniently fits anywhere in your refrigerator. 6. Attractive neutral color and cool contemporary design. 7. Easy operating instructions: Turn it on Freshen your refrigerator 8. Patented Piezo-electric technology: allows for a high negative ion output to freshen your refrigerator without the harmful side effects of ozone that is found in standard ionizers. 9. Safety: The Ionic Fridge air purifier has received safety certifications from GS and CE as well as the RoHS lead free directive. Made of durable fire-resistant ABS materials. Tested for ozone production by ITI (Industrial Research Technology Institute) and found to be 0.011 ppm which is 78% below FDA limits. 10. Operating costs: Ionic Fridge purifier average battery costs: $1/month.
"
We recently went through and cleaned (threw out old food, wiped everything down, etc.) our refrigerator, and then set up our Fridge Air Purifier. There was a very noticeable difference in the smell (and it lasted when we used our air purifier)! Some of our favorite features is that average battery costs is a dollar a month, it is silent, easy to use, and is small enough we always have room for it in our fridge!
Oransi is going to send 1 Agents a Oransi Fridge Air Purifier!
(
USA only and no PO boxes)
I received no monetary compensation for this review and giveaway. I did receive product for review purposes only. All thoughts and opinions are mine. All text in red is taken from the sponsor's website.
a Rafflecopter giveaway