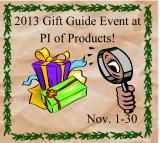 I received a Solid White Furry Headband and a Solid White Neck Gator from Bondi Band. These are very soft and cozy, and great for using while doing outside sports in the winter (such as skiing, sledding, snowballing, we use it when practicing Martial Arts outside, etc.).
I let my little sister use these when she went out to play with the dogs, and she has been using them ever since! I have a feeling that I won't be seeing them anytime soon (with the exception of on her!).
One of her favorite features is that the headband is wide and is soft and cozy so it will also keep her ears warm. Don't they look really nice? M. is enjoying using these when going outside at all!
RESULTS OF INVESTIGATION...
Anything from Bondi Band Would Make A #1 Gift!
CASE CLOSED!!!
I received no monetary compensation for this review. I did receive product for review purposes only. All thoughts and opinions are mine. All text in red is taken from the sponsor's website.